IHM is proud to introduce the Iranian Healthcare Programme, a tailored-made product exclusively for Iranians residing in Malaysia. This is to enable Iranians to have peace of mind during their stay in Malaysia because our programme includes, amongst others, a comprehensive medical insurance coverage that meets the needs of an individual, single parent and for whole family.
Overview
The Iranian Healthcare programme includes the following benefits :
IHM Membership Programme.
Medical Insurance Plan.
Clinical Outpatient Plan.
Dental Insurance Plan.
International SOS (International Medical Evacuation & Repatriation Services).
Complimentary medical screening provided by the KPJ Healthcare Group.
Programme Benefits
The Iranian Healthcare programme offers the following programmes :
Annual Medical Check Up by KPJ Group :

- Physical Examination.
- Body Mass Index.
- Blood Pressure Screening.
- Vision.
- ECG with Report.
- Chest X-ray.
- Blood Test and Urine Analysis :

>> Full Blood Count.
>> Liver Function Test.
>> Renal Profile.
>> Bone Analysis.
>> Diabetic Screening.
>> Lipid / Coronary Profile.

Lifetime Healthcare Plan / Wellness Program.
Medical Review by Doctors.
Nursing Care & Convalescent Homes.
Hassle Free Hospital Admission.
Outpatient Cover
Dental Care provided by wide range of Panel Dental Clinics (Click here* for location) :

- Ful reimbursement on :

>> Amalgam / Composite Fillings.
>> Anterior Tooth Colour Fillings.
>> Extractions (Non - Surgical).

International SOS provides :

- Emergency Medical Evacuation / Repatriation - USD 1 mil.
- Repatriation of Mortal Remains - USD 1 mil.
- Compassionate Visit - 1 Economy Clas Return Airfare.
- Return of Minor Children - Economy Class 1 way Airfare.
- Hotel Accomodation - USD 1,000 (USD 250 per day).

24 - Hour Call Center.
Acceptance by major KPJ Hospitals.
Hospitalisation & Surgical Benefits :

- Hospital Room & Board (R&B) - RM 150 (2 bedded Room), RM 250 (Single bedded).
- High Overall Annual Limit.
- No Lifetime Limit.
- Covers Outpatient Cancer and Kidney Dialysis.
- Full Reimbursement for Medical & Surgical Procedures.

Outpatient Clinical Benefits

- Wide Range of Panel Clinics Across Malaysia.
- High Outpatient Cover Limit. (Up to RM 2,000 per year)
- Coverage Extends to Specialist Visits. (Referrals by panel clinics)
Requirements
The Iranian Healthcare programmes required the following :
Copy of valid passport.
Copy of Visa.
IHM Application Form.
Allianz PHD Form
Note:
- Minimum entry age 30 days, Maximum 64 years old.
- Local treatment clause applies.
- Sub-standard case is subjected to pre-underwriting.
Exclusions
The Iranian Healthcare programme does NOT cover any hospitalization, surgery or changes caused directly or indirectly, wholly or partly, by any on of the following occurences :
Pre-existing illness.
Waiting period 30 days (except for accident).
Pregnancy, child birth, miscarriage, abortion and prenatal or postnatal care.
Note:
For more Exclusions, please call 03-8602 9299 / 03-8943 1261.
We are priveleged to have Allianz Life Insurance , Tune Insurance , International SOS, and the KPJ Healthcare Group as our esteemed partners in this comprehensive Iranian Healthcare Programme. For more information, kindly download our brochure on the link above or call us at
03-8602 9299 / 03-8943 1261
.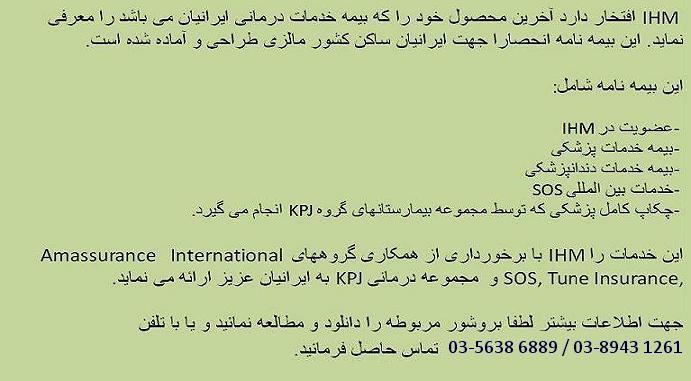 Application Forms Downloads